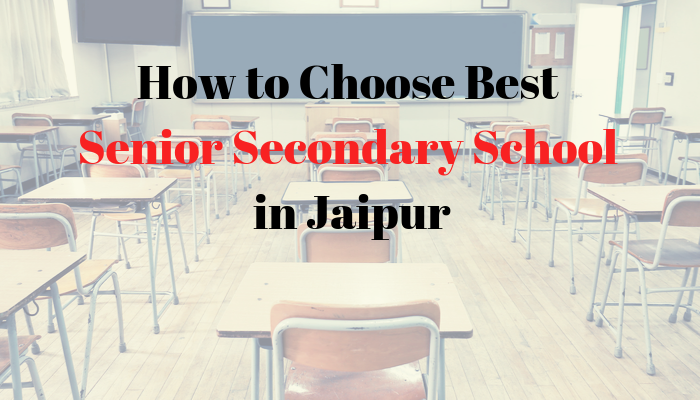 It is a crucial decision to select Best Senior Secondary School. Since it can affect the career of a student after 12th class. It matters a lot that from where you complete your high school for succeeding in the future. It can help you to choose the right career path. So, we are going to give you the top tips to choose the Best Senior Secondary School in Jaipur. Here are some steps you need to take for selection:
In the first place, you should consider your stream for choosing the School like commerce, arts, or science. It is pivotal to view your field because different schools have different focus areas. As per your stream, you should go further for a selection of schools. For this, you can know the best commerce schools, science schools, art schools by searching on google. You will find a list of schools which are best in Jaipur. So, note down the list.
You may also choose the best senior secondary school in Jaipur as per our research. We have done a study on the Senior Secondary schools in Jaipur and found some best schools. Here is the list of best schools of Jaipur:
VSI International
Xavier's' Senior Secondary School
Rajasthan Open State School
Neerja Modi School
Rukmani Birla Modern High School
SRN International School
Maheshwari Public School
Bhartiya Vidya Bhawan Vidyashram
Delhi Public School
Seedling Public School
How to Choose the Best Senior Secondary School in Jaipur
Know Your Kids Preferences
Now, it is time to take into consideration, you and your child's requirements. Since no one can know about your child better than yourself, so, discuss with your child about his/her preferences.
Discuss matters like environment, location, teaching style, culture, and other issues with your child. Realize the needs of your child, whether he/she needs more personal attention. Also, know the weaknesses so that it would be easy to find the one which focuses mainly on those areas. Besides, analyze the learning style of your child, whether he/she likes to learn in groups or alone. You can note down other details as well according to your requirements.
Collect Information
Collect information regarding all the schools which offer the best education in your stream. You can collect the data of schools from the School's websites, google, or any other site. There are many different things that a student needs other than academics. Consider all the data closely one by one and shortlist to visit.
Safety
It is a significant matter for every parent that the Senior Secondary School offers proper security to their child. So, while collecting the data, examine carefully that the School provides adequate safety to all children.
Facilities
Write down every facility which the Jaipur's schools offer. You need to consider everything like whether School has a proper auditorium, playground, library, computer lab, etc.
Environment
It is also crucial that whether the School has a proper hygienic environment or not. So, if it is possible to get the information about it then it will be easy for shortlisting the schools.
Fees
This task would be easy to perform as you can easily get the information about the fee structure from the schools' website. Also, do not forget to collect information about all the other charges during the year. There can be so many different charges in schools like for events.
Curriculum
You should check out whether the schools are offering the best curriculum. It is important that a school's curriculum is excellent so that your child will learn the subjects properly and deeply. It will help in deciding that which is worst and which is the best Senior secondary school in Jaipur.
Extracurricular Activities
It is vital for the complete development of a child. So, check out the details of Jaipur's Senior secondary schools about how many activities they are organizing every year.
Location
It is essential to know the area because your child may not prefer to travel to distant places. It might be complicated to move daily to such a long distance. So, check out the locations of the School.
Visit the schools which offer the best as per your requirements.
Other Things that Need to be Kept in Mind While Choosing a Senior Secondary in Jaipur
In an earlier step, you must have shortlisted the best Senior secondary schools in Jaipur as per your requirement like fees, extracurricular activities, hygiene. Now, there is a need to visit the schools you selected in the earlier step. It is necessary to visit because the data you collected about hygiene, safety, the environment can be analyzed only after visiting the schools. Also, there are so many other factors which you can analyse only after surveying the School. The elements, you need to examine are given below:
Culture and Teachers
When you visit the School, look over the culture of the School. Find out how the teachers behave and teach. Also, are they helpful to every kind of student, whether weak or intelligent? Check out the classrooms, whether they are neat and clean.
You should talk to the teachers to know their behavior and dedication towards education. It is essential to understand because the learning of students highly depends on their educators. The motivated teachers give their best in teaching every student. Also, check out the teachers' skills & qualifications because teachers must be capable of teaching.
Principal
Discuss with the principal of School to know the philosophy of teaching. In conclusion, whether they have a good education system or not. Also, does the school work on the complete growth of a student. Enquire about the strengths, weaknesses, and things they are going to improve in the School.
Students
Have a conversation with the students about the teaching methodology, behavior of teachers & principal. Also, talk about the safety & security, extracurricular activities of School. You will be able to able to identify everything accurately by speaking with other students.
So, after visiting the Senior secondary schools of Jaipur city, it is not a tough task to select one particular School for your child. However, do not forget to enquire about the admission procedure. It is necessary to know whether the School conducts any exams for taking admission. Since it is crucial to clear the exam, so ask the passing percentage of the exam. Then, get your child ready for the exam. If your child clears the test, then it is excellent; otherwise, you can choose another best option.
We hope this article was helpful for you to choose the Best senior secondary school in Jaipur.