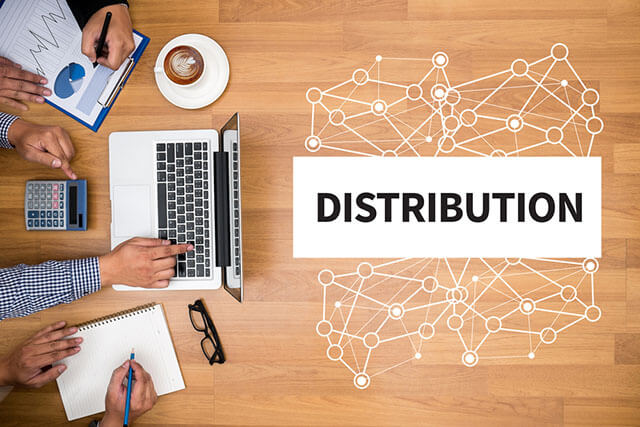 Distribution is one of the components of 4P's marketing mix (product, price, promotion, and placement). In simple terms, distribution can be defined as the path through which goods or services flow from manufacturer to the end-user.
Distribution can be either
Short and direct, where goods reach directly from the manufacturer to the consumer. That is, it does not include any intermediaries in between. So, this type of distribution system is called a direct channel.
It may include one or more than one 

type of intermediaries

 to sell its products or services to its consumers. These intermediaries can be whole-sellers, retailers, distributors, agents, etc. So, this type of distribution system is called an indirect channel.
Since distribution involves a chain of intermediaries to sell its products or services to its end consumers; it is also termed as a channel of distribution or marketing channel.
All organizations whether big or small, including distribution channels in its marketing strategy Pubfilm. It not only provides services to the organization in making its products reach its end users in an optimum way but it also provides options, information, and alternatives about different chains through which goods and services can be delivered to the end-users. In other words, it helps in expanding the business and growing its revenues.
Some of the common distribution channels used by organizations to generate leads and sell their products to end-users are –
Direct sales – here goods are directly sold by the manufacturer to the end -consumer

Through distributors, dealers, and retailers – here bulk goods are bought by the distributor from the manufacturer who sells them to dealers. These dealers then sell, a smaller quantity of these products to retailers who in return sell these products to the end-users directly through store, website or catalog.

Online/Internet is selling products or services through its website.

Mail order

By conducting events

Through sales agents by the door to door selling.

Telephonic sales
Thus, we see that several distribution channels help in the flow of goods and services. Amongst them, the organization chooses either one or more than one appropriate channel. So, depending upon the benefits derived from the channel, they choose an appropriate channel.
Consumers form the base of every business. Therefore, organizations need to identify their target consumers, their communication method, sales terms, nature of the product or services offered, location of the consumers, etc. Therefore, while choosing a distribution network for their products or services, organizations must take into account factors like –
Consumer's buying preference –how and where. This means whether the consumer wishes to buy the product directly from the manufacturer or through channels like retailers, the Internet, mail, telephone, etc.
Buyer needs — sometimes consumers want their products or services to be specially customized as per their needs.
Some consumers always prefer training or instructions before using the new product. Like product information, installation, technical assistance, etc
Servicing facility is needed for the product,
Need additional product or services along with the product bought
Selecting channel intermediaries is a two-way process. Besides, the organization's willingness to market its product through a particular channel, the respective marketing channel should also be ready to accept the offer. Sometimes, a channel like retailers due to cost or other factors does not wish to be part of the marketing channel for few products cyro.se. Therefore, the willingness of channel intermediaries to market a product is also an important factor.
While selling the products through intermediaries, the price of the product rises. That is, larger will the number of channels higher will be the price of the product. This is because every channel keeps a markup value (commission) for themselves. Finally, by the time the product reaches the end-user, there is a substantial increase in the price of the product or service. This substantial increase in the price of the product can be unacceptable to the manufacturer. So, the intermediary cost is another influential factor.
All manufacturers do not have the facility of keeping well-trained employees or imparting training or servicing facility to its end consumers. So, in such cases, manufacturers opt for selling their products or services through other distribution channels.
Besides this, many channels have their special way of catering to the needs of their end consumers. This thus helps to boost their sales and increase revenue. So, marketing situations where the manufacturer lacks these selling skills chose certain intermediaries to sell their products or services to reach their end consumers.
When a manufacturer sells a product directly to its consumers, it has all the control over its product. This holds especially in case of pricing. However, when the same product reaches the end consumers through retailers, distributors, etc, there is a reasonable amount of increase in its price. The manufacturer does not have any control over its product. Besides this, it also loses its control over other issues like how the product will be sold, to whom it will be sold and product promotion or schemes, etc. So, in, a manufacturer should choose a channel, depending upon the extent to which the manufacturer wants to keep control over its product.
The nature of the product is also an important factor while choosing a distribution channel. Like in the case of perishable goods, short distribution system should be chosen.
Distribution Intensity is another factor based on which distribution channel is selected. Some products like cigarettes, cold drinks, etc need maximum coverage. That is, more the number of outlets more are the chances of increasing its sales. In such cases, intensive distribution is needed. Here, consumers have a range of acceptable brands to choose from. So; manufacturers of such products aim at flooding the market with their products and hence chooses the number of outlets to sell their products.
Selective distribution is the one where a manufacturer selects a very limited number of outlets in a geographical area to sell its products. Here, the manufacturer selects the best outlet to sell its products. So, in such cases, the end-users are ought to have a brand preference for these products or services.
Exclusive distribution is an extreme form of selective distribution in which only one wholesaler, retailer or distributor is used in a specific geographical area.
Different distribution channels help to increase the consumer base of the organization. Through them, organizations can cater to more number of market segments. Therefore, every organization must understand and evaluate the entire distribution network and select the one which helps them to increase their sales footlocker homeview. The distribution strategy should be such that it can deliver all the essential information and service required. This becomes all the more important when the organization is undergoing expansion and wants to grow its business (business development).